So. You're stuck at home. You can't go out. Everyone is healthy in your household. But you're starting to go stir crazy. Maybe you want a fresh list of family movies to watch with your kids at home.
Schools and day cares are closed. And if you are lucky, you're not sick and have a job where you can "work" at home while your children do "school work" at home.
The good news is: your hectic evenings are now completely free. But for many parents facing extended home time with their kids, this has left them wondering:
"What the absolute hell am I going to do with my kids to pass the time?!?"
Some resourceful, go-getter parents turned to colorful schedules and charts. Which begs the question: how many of those colorful charts are now just hanging reminders of false hopes and dreams?
Our family took a more practical approach. We knew there was no way in hell one of those fun, colorful little charts was going to help.
Instead, we prepared ourselves mentally for streaming movies, some booze maybe, free time for the kids, crying in the bathroom, more movies and shows, possibly quiet time for mommy and daddy to rock back and forth slowly, and wondering how we are going to wipe our asses when the toilet paper finally runs out.
But there has been some, albeit very weak, strategy to the madness. We've limited movies and shows down to ones that we can tolerate. And we mix in some other activities, for good measure.
If you've read this far in my introduction, then you are probably ready for the list of some family movies to watch at home with the kids during the nationwide quarantine, so here you go.
1. Zootopia
2016 | PG | 1 hour 48 minutes | Animation, Adventure, Comedy
Judy Hopps is a small town bunny who dreams of becoming the first bunny cop in the magical land of Zootopia. Yeah, it's basically the wild animal version of New York City packed full of different boroughs, mafia, and bigotry.
Throughout the movie, Judy rises to every challenge she faces with some good old fashioned dirty cop work: blackmail, mob favors, and abuse of power. In other words, its great, clean fun for the whole family.
2. Frozen
2013 | PG | 1 hour 42 minutes | Animation, Adventure, Comedy
There is no better way to survive being a shut-in for weeks on end than by watching family-friendly movie at home about a shut-in suddenly thrust into awkward social and political situations and obligations.
When the quarantine is lifted, we should all join in singing "For the First Time in Forever" or "Let it Go" as we go back out in public for the first time, dare I say it, in forever? (ah there's the dad joke)
Check out my full review of Frozen here.
(I'd tell you to check out Frozen II, but I'm still confused about what the hell I've watched now nearly every. God. Damn. Day. Since. Being. Home. Bound.)
3. Wreck It Ralph
2012 | PG | 1 hour 41 minutes | Animation, Adventure, Comedy
Wreck-It Ralph references so many video games and pop culture, it's hard to believe the story is somewhat original. Seriously. It is like taking a bizarre trip down memory lane of all the games of the 70's, 80's, and 90's it references.
But it is entertaining enough. After over a dozen times watching it (our daughter went through a phase briefly), we still don't hate it.
OK maybe my wife does. But I can tolerate repetition I can tolerate repetition I can tolerate repetition…
4. The Star Wars Saga
If you want to join one of the nicest, most down to Earth, welcoming fan bases out there, then make sure you watch the Star Wars Saga in its entirety. Better yet, post an opinion or question about Star Wars on social media and enjoy the bickering and backlash of disgruntled and overly enthusiastic fans of the franchise.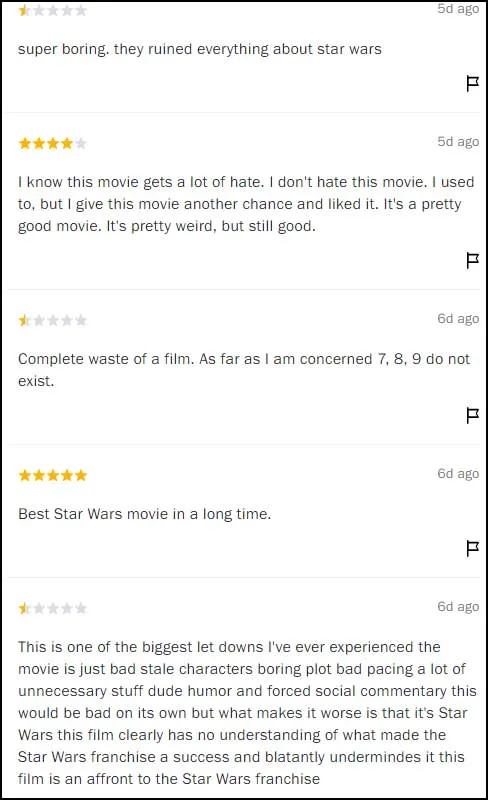 Even if you don't like Star Wars, keep in mind: if you watch every Star Wars movie made, you will kill over 24 hours of time with your children. And they might stay quiet.
You can check out my reviews of The Force Awakens, The Last Jedi, and Rise of Skywalker. Hell, you might like the reviews better than the movies themselves. Or you might hate the reviews. Either way, it'll be a good time.
You can also check out Empire's post on what order to watch Star Wars here. It gives a few different ways to view the saga that you may not have thought of.
5. The Princess Bride
1987 | PG | 1 hour 38 minutes | Adventure, Family, Fantasy
Want a break from Disney? Shit. Disney owns The Princess Bride now too because it devoured Fox?
OK. Well. Want to watch a story Disney did not actually have a hand in making? Then check out this well-made but blatantly 80's fantasy that has become a cult classic.
6. Beauty and the Beast
1991 | G | 1 hour 24 minutes | Animation, Family, Fantasy
For the true quarantined experience, try watching Beauty and the Beast. It features abnormally cruel curses, shut ins, verbal abuse, imprisonment, bestiality, and Stockholm Syndrome – all in one family friendly movie you can enjoy at home.
And people got bent out of shape over a blink-your-eye-and-you-missed-it gay scene in the live-action remake. Seriously.
Think about that for a moment:
Bestiality? – "Oh well that's OK it's only implied."
Imprisonment of a young lady? – "Seems legit"
Verbal abuse? – "What did she say to get him angry?"
Abnormally cruel curses that punish children and innocent adults too? – "We're fine with that."
A direct nod to Lefou being gay instead of the subtle reference in the animated version? – "BOYCOTT! BOYCOTT! BURN THIS HERETIC FILM AT THE STAKE! It's inappropriate for children! How can you let children watch such trash!?"
The live action remake is one of the better remakes since it actually helps expand on the story. It also eliminates some of the plot holes and timeline issues of the animated film. (Like, was the Beast seriously about 11 when he was cursed? The rose would only bloom until his 21st birthday. What kind of fucked up person curses a child like that?)
7. Shrek 2
2004 | PG | 1 hour 33 minute | Animation, Adventure, Comedy, Not Disney
At one point in our life, shortly after college, my wife and wore out our DVD copy of Shrek 2. Maybe we were pathetic. Or it was just something to fall asleep to at night. Or maybe it was both, happening at the same time.
Whatever the case, we proved you could wear out a DVD with too much use. And now that we can't go out and do things, it seems like a good time to revisit an old favorite.
8. Jurassic Park
PG-13 | 2 hours 7 minutes | Action, Adventure, Science-Fiction
Nothing say wholesome family fun like watching anatomically incorrect, CGI dinosaurs ripping people apart. I still tell the kids and wife to "hold on to your butts" from time to time while driving because Samuel L. Jackson is worthy of imitation.
My wife loves that. Inanity, especially repetitious inanity when trapped together for days on end, really helps keep the sparks flying.
Sure, Jurassic Park is not great for young kids. It's also not great if your kid is a lil bitch. But if your kids are a bit older and don't cry at their own shadow, they may enjoy this classic.
9. Home Alone
1990 | PG | 1 hour 43 minutes | Comedy, Family
Looking for a movie about a kid who is also stuck at home due to extreme negligence of those in charge of safety? Me too.
You just need to ignore how horribly dated the movie is. Or you may not want to watch Home Alone if you are already starting to feel a bit unstable because if your young child asks "what that thing people keep talking into is?" you may finally snap.
If you're really, really bored and actually stuck reading through this entire list of family movies to watch at home, you can read the reasons Home Alone would not work in today's world here.
10. The Mandalorian
2019 | TV-PG | 30 minutes (each episode) | Action, Adventure, Science-Fiction
The Mandalorian (aka The Baby Yoda Show) is a modern spin-off of from the Star Wars universe that did the impossible: it pleased and united fans who hated and fans that loved The Last Jedi (full review here) bringing them together in an uneasy alliance.
If nothing else, you can watch Baby Yoda.
Alternatives to watching family movies at home
For most of us, we've survived week two of staying home. By now, you're fancy schedules are working as intended and nothing too bad has happened.
Or you burned them in a trash can after day 1. No judgement.
For those of you who don't want to watch family movies at home all day or evening, you can try making crafts with your kids.
We did. And my project came out pretty well, if I do say so myself.
Inspired by the toilet paper shortage, I created Koronavirus Karen with my daughter's art supplies: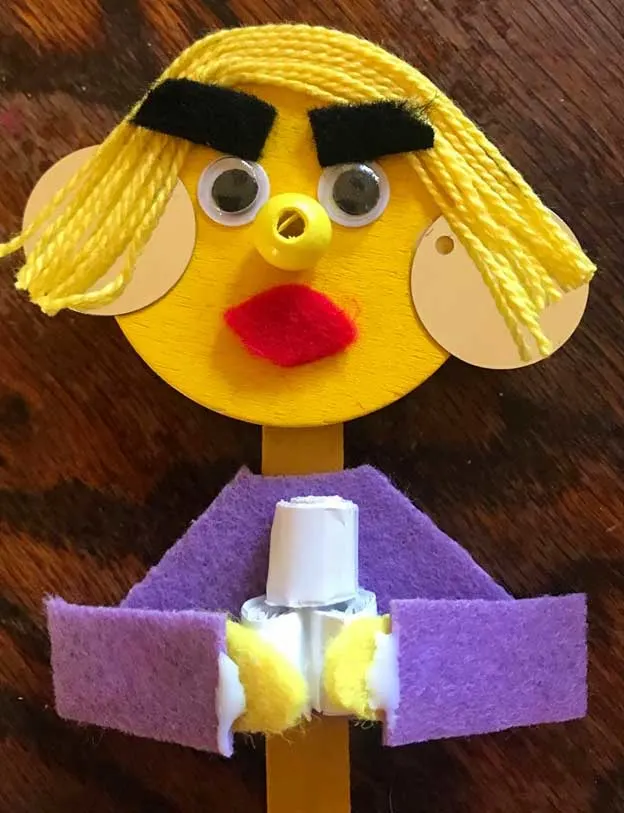 If I had the expertise, I would equip it with catch phrases like:
"I want to speak with your manager!"
"What do you mean you ran out of toilet paper?"
Yeah. I got bored. Real bored.