Star Wars – The Rise of Skywalker | PG-13 | 2 hours 22 minutes | Sci-Fi, Action, Fantasy, Adventure | December 20, 2019
"The dead speak!" or so the scrolling marque through the stars iconic in Star Wars' episodes tell the audience. The dead that the marque refers to is none other than Emperor Palpatine, who has returned from the dead. Never died? I don't know. Like a lot of things, they never really fully explain that part.
The Rise of Skywalker: Quick Points
The Rise of Skywalker is darker than the previous two films.
Most of the characters still do not get full arches in their story and ultimately are harder to connect with.
Some scenes felt like J.J. Abrams was apologizing or writing away parts of The Last Jedi.
The much hated Rose got the Jar Jar Binks treatment with only a few lines of dialogue and the potential love story started between her and Finn in The Last Jedi was completely dropped.
The movie was very fast paced and felt rushed at times.
Some plot points seemed to need you to read or know about the new Extended Universe to understand entirely.
What parents need to know
If you have waited to see The Rise of Skywalker until the crowds died down, you've waited too long. Those crowds died down the next week with about a 60% drop in audience attendance between opening weekend and the second weekend.
But if you're kids or you want to go check out the largely disappointing final chapter of the newly dubbed "Skywalker Saga," here are some things you should keep in mind as a parent:
If you hate seeing Star Wars with your kids, this movie is still going to suck for you. I suggest sneaking in "mom juice" or purchasing an adult beverage at the bar prior to having to sit through it.
If your kids are overly sensitive or you are a sanctimommy, you probably should avoid The Rise of Skywalker. It will be too much for them/you to handle with some dark, "scary" scenes.
If you only like the original trilogy, see point one.
If you like fast paced, mindless action set in the Star Wars universe with stale, poorly developed characters, then you are in luck, you'll love The Rise of Skywalker
Star Wars: Episode IX - The Rise of Skywalker: Parent Review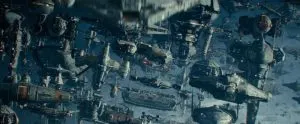 Movie title: Star Wars: Episode IX - The Rise of Skywalker
Movie description: "The dead speak!" or so the scrolling marque through the stars iconic in Star Wars' episodes tell the audience. The dead the marque refers to is none other than Emperor Palpatine, who has returned from the dead. Never died? I don't know. Like a lot of things, they never really fully explain that part.
Date published: December 20, 2019
Country: United States
Duration: 2 hours 22 minutes
Director(s): J.J. Abrams
Actor(s): Carrie Fisher - Leia Organa (archived footage), Mark Hamill - Luke Skywalker, Adam Driver - Kylo Ren, Daisy Ridley - Rey, John Boyega - Finn, Oscar Isaac - Poe Dameron, Anthony Daniels - C-3PO, Naomi Ackie - Jannah, Domhnall Gleeson - General Hux, Richard E. Grant - General Pryde, Lupita Nyong'o - Maz Kanata, Keri Russell - Zorii Bliss, Joonas Suotamo - Chewbacca, Kelly Marie Tran - Rose Tico, Ian McDiarmid - Emperor Palpatine, Billy Dee Williams - Lando Calrissian
Genre: Sci-Fi, Action, Adventure, Fantasy
Plot

Characters

Watchability
Dad's Take
Initial reaction to The Rise of Skywalker: what did I just watch? It wasn't terrible. It wasn't great or necessarily good either.
Overall, the movie felt very rushed. Sure, there was a decent amount of action that your kids will likely cling to, but there is limited emotional investment in the new characters that make you really care if they live or die. I mean hell, in this trilogy, you see several planets of the New Republic destroyed with one shot in The Force Awakens. What is there that is left to defend or hope for?
Even old favorites get some odd, emotionless treatment. There are a couple of cheap fake outs, and what is supposed to be an emotional moment with C3p0 that fell rather flat.
Then there are some themes that run through out the movie and are constantly brought up in cringe worthy dialogue. Don't worry, people will come to help. Don't worry, they'll come. Oh man, I thought they'd come. And so on. Moral being: if you rise up against evil, others will join you, they just need a push. Or a crappy, predictable script that tells them to do so.
And there are scenes that I definitely rolled my eyes at. Scenes that made no sense unless you have read some of the new Extended Universe. And several unanswered questions about scenes that were left in the movie. Like why did Lando randomly ask some girl he supposedly just met if she wanted to go with him to find out who her parents are? It's one of two things: creepy AF or he's her dad. Either way, not sure a spin off regarding that search is worth seeing.
The Rise of Skywalker wraps up nearly 40 years of waiting and had a lot to live up to between the original trilogy, the questionable prequels, and slightly more questionable sequel trilogy. But truthfully, I felt more excitement during Avengers: End Game both from myself and others in the theater (I still remember the audience going nuts when the Black Panther and crew stepped out of one of the open portals).
In The Rise of Skywalker, I didn't really feel much of anything, which is weird considering this movie marks what is supposed to be the last of Star Wars episode to deal with the Skywalker family. A family that many have known for nearly 4 decades.
To be fair, even the original trilogy did not spend a lot of time on character development much less keeping a consistent plot line. George Lucas made a lot of spur of the moment seeming decisions when it came to how he wrote Return of the Jedi. And he didn't even seem to follow his own cannon when he wrote the prequel trilogy.
For example, how the hell did Obiwan forget Luke had a twin? Or why if training Anakin at the age of 8 or so is too late did they not start training Luke and Leia when they were much younger?
Sadly, it's clear The Rise of Skywalker embraces and emphasizes poor character development and sketchy plot lines that the rest of the Star Wars saga is riddled with. I left wondering why I should care if Finn or Poe dies? Rose basically disappears. Abrams also almost seemed to apologize for The Last Jedi, mocking parts of it with characters saying the ramming a cruiser into another ship at light speed has a slim chance of success at best.
With the exception of fans that will eat up anything Star Wars regardless of how crappy the movie actually is, The Rise of Skywalker will likely annoy a number of the Star Wars fan base. Those that loved The Last Jedi will likely not like the fact that final episode largely wrote out the concepts seen in that film. Fans of the original trilogy may like seeing the Emperor and Lando return, but it will likely fall short of their expectations for wrapping up the saga that sparked their imaginations for decades. And prequel fans (particularly Episode II) are likely too busy eating glue to really care, so I'm not sure how they'll react, but probably not good.
If you can, I'd avoid seeing The Rise of Skywalker in theaters. Wait until it comes out on Disney Plus. In the meantime, if you enjoy the original trilogy of Star Wars, I would recommend The Mandalorian that streams on Disney Plus. It is well done, has a Star Wars feel without being trite, and shows a side of the universe not often explored.
Much more than The Rise of Skywalker, The Mandalorian, and Rogue One before it, give me hope that, in the right hands, Star Wars can have good, decent quality films that don't feel like they either rehash or tread all over the original trilogy that started the whole saga.
However, if you can't avoid it because like me you wanted to see all the movies in theaters or you have a young child demanding it, just be prepared to leave the theater feeling perplexed. But don't worry, if you feel that way, you are not alone.
And if you do happen to really like it, more power to you. If you are lucky, maybe the Episode II fans will share their glue with you. Maybe.
Pros
Brought back some fan favorites such as Lando and the Emperor
Answered some questions like who Snoke is
Was fast paced
Cons
Largely emotionless with several fake outs and poor plot and character development
Cheesy dialogue running throughout
Felt rushed and left many questions