Avengers Endgame Plot Holes
Avengers Endgame is the capstone event of the MCU bringing the 22 movie, decade-spanning Infinity Saga to a definitive close… That is if you don't count Spider-Man: Far From Home, which actually caps the Infinity Saga. Confused? Well, that doesn't even begin to cover all the I plot holes and inconsistencies throughout the film.
WARNING: IF YOU HAVE NOT SEEN AVENGERS ENDGAME, AND INTEND TO, THIS ARTICLE HAS SPOILERS… I MEAN, I'M NOT SURE WHY YOU WOULD BE READING AN ARTICLE ABOUT THE STUFF IN A MOVIE THAT DIDN'T MAKE SENSE IF YOU HAVE NO MOVIE TO REFERENCE… THAT DOESN'T MAKE SENSE… BUT HEY, IF IT FLOATS YOUR BOAT, GO FOR IT. YOU HAVE BEEN WARNED.
WARNING 2: IF YOU DON'T LIKE READING ARTICLES THAT POINT OUT FLAWS IN A MOVIE THAT YOU LIKE (WHICH I LIKED ENDGAME), THIS ARTICLE IS ALSO NOT FOR YOU. IF IT CAUSES YOU PAIN TO EVEN THINK ABOUT IT, THIS SHOULD CHEER YOU UP. YOU'RE WELCOME.
To clarify, I overall enjoyed Avengers Endgame. But, really, it was not my favorite MCU film or even favorite Avengers film. Hell, I'd probably rank it as follows:
The Avengers
Infinity War
Civil War (technically not an Avengers film, but technically was)
Age of Ultron
Endgame
And then there is a whole slew of other movies that fill in slots all around those films. So yeah, really, Endgame was sort of like Captain Marvel was for me: a mediocre to average MCU film that hype and over-all MCU popularity propelled beyond how the film would have done on its own.
But even if I loved the film and could gush over it for hours, I'd still enjoy finding plot holes and inconsistencies in Avengers Endgame. So here you go, these are the Avenger Endgame plot holes and inconsistencies that that might make you go huh.
Mickey save the day
Dr. Strange predicted the Avenger's odds of winning after he had some bizarre ass seizure on Titan. Of well-over 14 million possible outcomes, the Avengers won only one.
Dahn dahn dahn! One… oh the drama.
And to make it happen, Dr Strange had to do what he swore he wouldn't – give up the time stone to save Tony's life. (foreshadowing at its finest in Infinity War). So, of course, any reasonable theory prior to the release of Endgame is that Tony is crucial to resolving the conflict.
Which is why, Dr Strange made sure he lived, effectively manipulating the future events… kinda breaking Ant-Mans rules of time travel of not "betting on sporting events." Strange knew Tony was key and tweaked the outcome.
In other words, his action directly impacted the future, setting in motion the events that ultimately (<cough> predictably) saved the day. But what about Mickey Mouse who showed up at the van about 5 years later and freed Ant-Man?
Without lil Mickey, the events wouldn't have taken place. Or would be greatly altered. Like, what if lil Mickey did show up… 35 years later? Geriatric Avengers anyone?
Or never showed up at all? How did willingly giving up the time stone to save Tony guarantee to the "sworn protector of the time stone" that every other event would transpire as it did? Seems like an awfully convenient Avengers Endgame plot hole right there.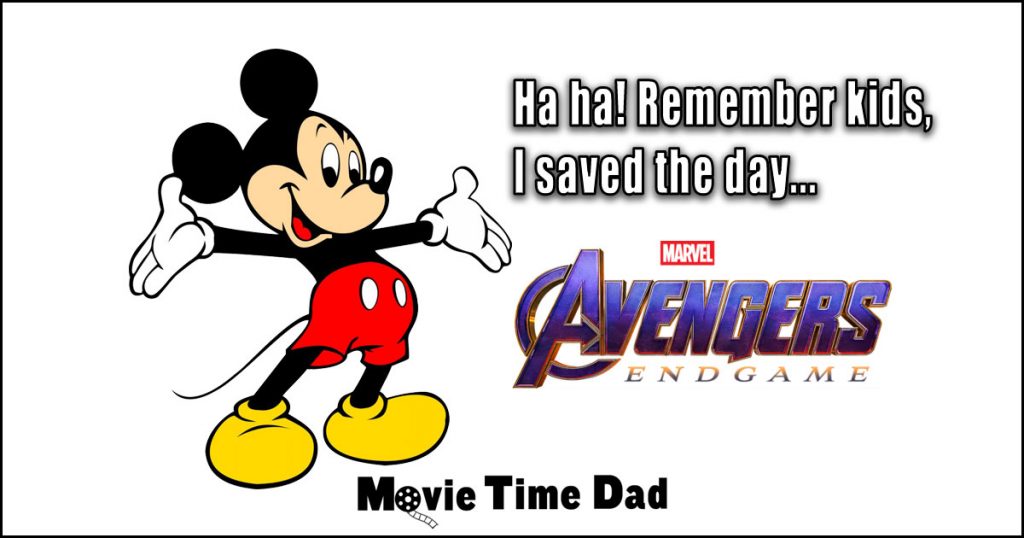 The time machine van plot hole
Building on Mickey saving the day, take some time to consider the van converted into a quantum realm time machine. This vehicle has two interesting issues.
First, there is the tie into Mickey Mouse saving the day. How the hell did a van, left in storage for about 5 years, possibly have any juice left in the battery?
And at that, from the post credit scene of Ant-Man and the Wasp, you can see large cables connected to the quantum realm machine. This would imply the machine requires:
a much bigger power source than a typical van battery that is almost certainly not connected to the van in Endgame
additional controls not located on the dashboard of the van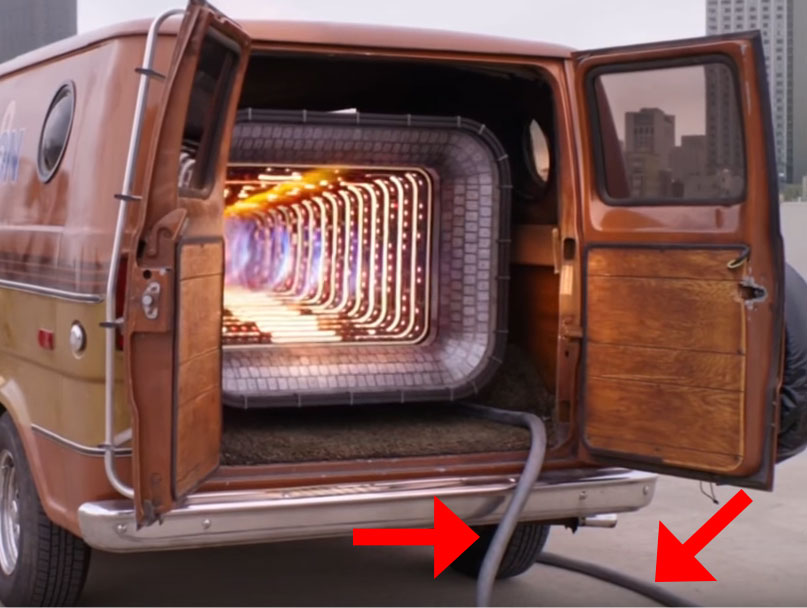 Even if the car battery could power the basic (perhaps fail safe) controls on the dashboard enough to bring Ant-Man back, the damn thing would certainly be dead 5 years later. Hell, it probably wouldn't last 6 months.
The second issue with the van comes in at the end battle scene. Some how, the van not only survives, but it ends up smack in the middle of the battle. (Talk about convenient writing to add intensity) And, amazingly enough, it needs to be hot wired because it was dead.
Really? That's when it died? Damn battery lasted 5 years, now the writers are saying it doesn't last a cross country trip? What kind of crap is that?
Nebula doesn't escape
An interesting (and required) plot point is that the 2014 Thanos learned of the Avengers' plot to acquire the stones through history to undo his actions. He learns this through the current Nebula picking up the signal from the future Nebula (that's some strong ass signals there I might add). They then share a collective memory and Thanos learns the whole plot.
Thanos and his ship go to capture the future Nebula, which future Nebula becomes aware. Now, assuming you can believe the connection was strong enough to span that much empty space, let's talk about another, more interesting fact:
Why the hell did future Nebula not portal her ass back to the present as soon as she woke up? They didn't capture her unconscious. She could have gone back at any point prior to them actually physically removing the device from her.
It's like the Avengers Endgame writers needed this plot hole to get to the end battle or something…
Why not just do the dramatic ambush on Thanos' farm a few days earlier?
If you recall, the beginning of Avengers Endgame almost feels like it is preparing for the climax. The Avengers discover an energy signal that was almost identical to the one released when Thanos first snapped half of all life away.
They launch a daring mission into space to confront Thanos and acquire the stones. Of course, long story short, wouldn't you know, Thanos just destroyed the stones a few days prior. Thor kills him out of frustration and anger, and then the movie time jumps five years.
They obviously got the jump on Thanos, why not, I don't know, go back in time to a few days before that event? They could ambush him again, slice off his arm, and take the stones back to their time.
Boom. Done.
Bad use of red sparkle portals
Dr. Strange and his master of the mystic arts companions really showed their power just prior to the climatic battle. They created their red sparkly portal thingies all over the galaxy, allowing each group of Avengers to dramatically enter with enough time for each of them to do their hero poses.
Side note: I can just picture Dr. Strange contacting each group of heroes being like "OK OK, when we open up the red sparkly portals, I need you to stride, fly, or swing out heroically. Then pause. I need you to stand in your best hero pose and wait for Cap's signal."
Getting back to it, once the gauntlet was in the Avengers' possession, why the hell didn't they take Dr. Strange and a small team away from the battle with the gauntlet? Then the rest of the Avengers could focus on killing off Thanos' army.
Or why not open up the red sparkly portals, I don't know, say at neck height around large groups of enemies and then close them up? Or hell, open a neck high red sparkly portal around Thanos and close it up. Seems they could have stopped a lot of Thanos' army through simply manipulating red sparkly portals around them.
Scarlet Witch Unchained
The MCU has set up Scarlet Witch to be one of the more powerful characters. But, her "flaw" is that she does not fully realize her full power potential throughout many of the films.
Still, her power is directly related to her emotions. Because she vanished, for her, it is as though Thanos just killed Vision in front of her. Her power should have been at its near peak from rage, pain, and so on.
And, to Endgame's credit, she almost tears him apart. Almost.
I could be wrong, but seems like she should have just decimated Thanos within seconds. She should have been able to rip him apart long before he could call down a rain of fire on his enemy.
Not one character needed to stay dead
An interesting Avengers Endgame plot hole basically shatters any meaningful impact of any of the hero's deaths. But most people don't really seem to think about it too much.
Avengers Endgame set up a new, potentially more accurate, way time travel works. In Endgame, if you go back to your past, it is now your future, so changing anything will change nothing in your past. You can literally pluck people directly from the past and bring them to the future. And the past and future stay the same.
You see this play out with how mean Nebula brought back Thanos' entire army from the past. And the 2014 Gamora effectively gets trapped in the present.
Hell, 2012 Loki escapes with the Tesseract… wait, does he have his own show coming to Disney+, is that why he needed to escape? <cough>convenient.
Hmmm. So. The Avengers have a time machine. They can go to literally any moment in time. And they can bring literally any person to the future with no issues. Why not bring Black Widow, Vision, Loki, Gamora (from Guardians of the Galaxy Vol 2 time), and Iron Man from the past?
It's as though the writers want you to accept Endgame's theory on time travel when convenient for them, but then rely on the fact that you will inherently keep the Back to the Future idea of how time travel works in your head where doing so would create an unfortunate ripple in events of the future.
Why not save Tony?
Tony/Iron Man saw his character arch complete and his journey come to an end. He died heroically at the end of Endgame to save all of humanity. But did he really need to die?
They now had all 6 Infinity stones. Why did Dr. Strange not take the, I don't know, time stone and reverse the damage done to Tony Stark?
It's almost like real life contracts were ending and Robert Downey Jr. wanted nothing more to do with the character after Endgame… I know, weird, right?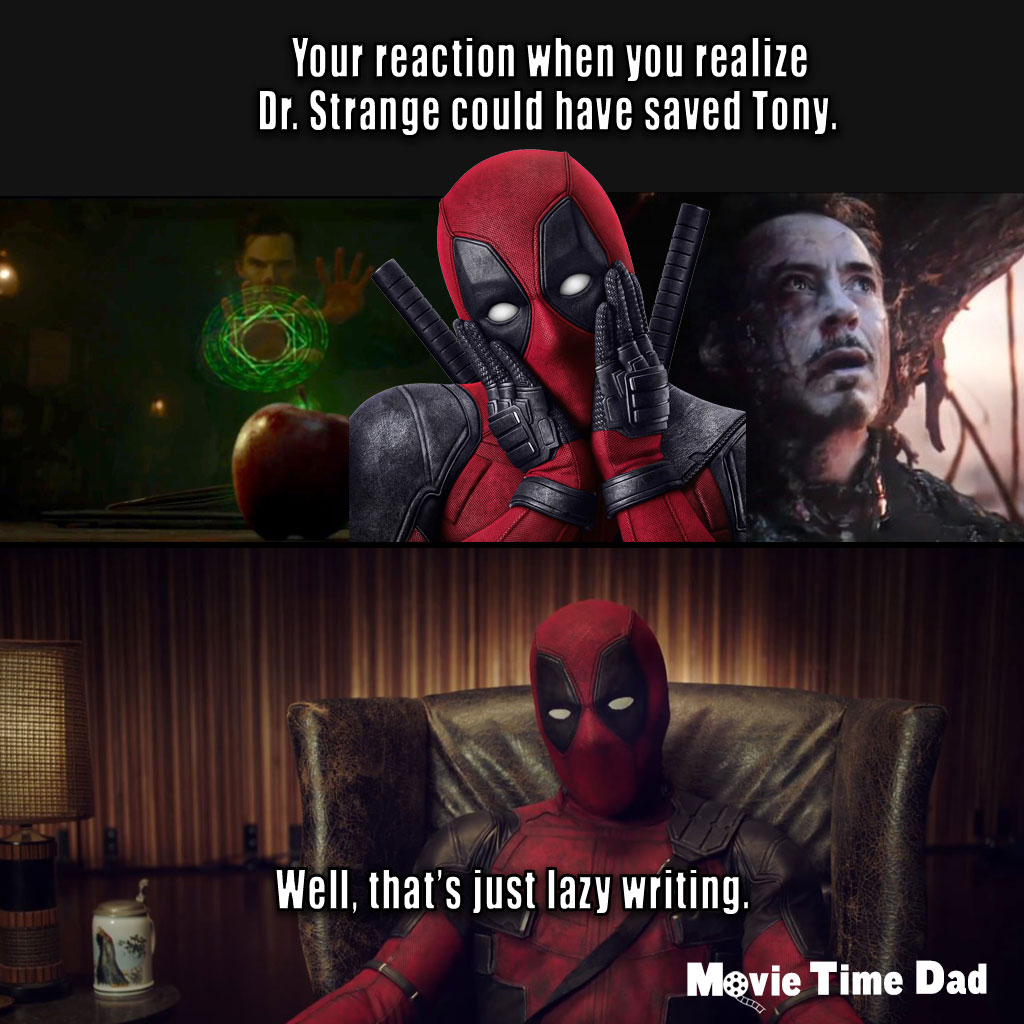 ---
Despite Avengers Endgame's plot holes, it overall worked to bring a close to the first chapter (book?) of the MCU. It paid tribute to fan favorites, closed some stories, and opened up the path to new ideas for the MCU to explore.
It's best you not think too hard about the plot holes, and just enjoy the movie. Sh*t! Sorry about that… Here, this should cheer you up.