Tiger King: Parent Review | TV-MA | 5 hour 17 minutes | Documentary, Crime | TV Mini-Series – 2020
What took me this long in a pandemic to write a Tiger King review?
I'll give you one guess…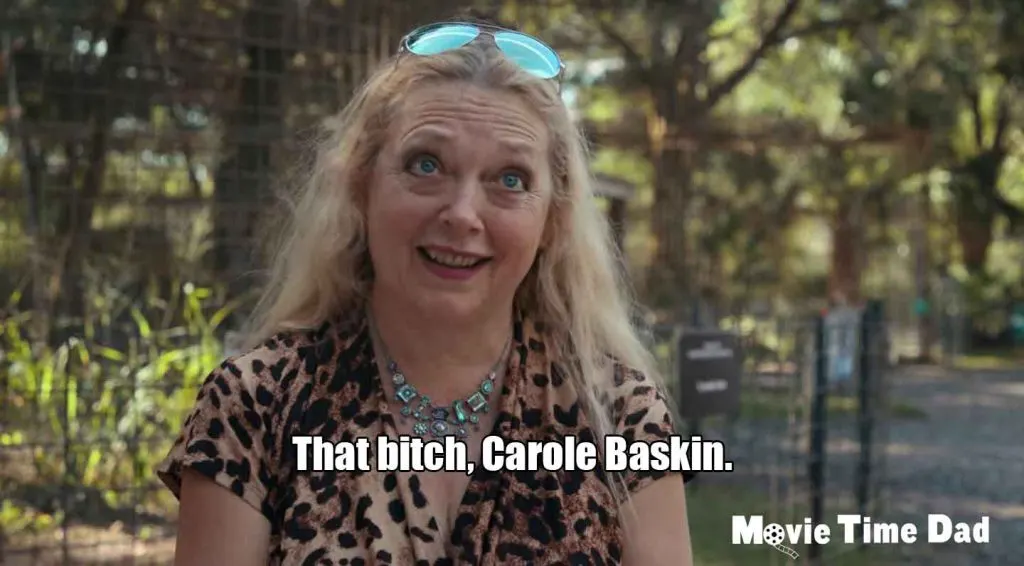 Tiger King Plot
I'm still trying to figure out the exact plot of Netflix's Tiger King show. It's a true crime/documentary. It introduces you to a variety of shady ass-clowns connected to Joe Exotic (Joe Schreibvogel). And it centers around a plot to kill that bitch, Carole Baskin.
My takeaways from watching Tiger King include:
You can blame pretty much all your problems on that bitch, Carole Baskin.
Carole Baskin definitely killed her husband… the only mystery is did she:

A. Bury him under her septic tank
B. Slather him in sardine oil and feed him to her tigers

I thought I had a pretty good idea what bat shit crazy white trash was. I was wrong.
Every single one of the people featured on the show had a long list of character defects that makes Jeffery Dahmer seem like a model citizen. Speaking of killers…
O. J. Simpson thinks Carole Baskin is guilty. O. J. Simpson. Let that sink in.
Meth. Not even once.
You can hire escorts as nannies. Who knew?
We could have had Joe Exotic as President of the United States
Tiger King: Honest Parent Review
Plot

Characters

Watchability

Number of Guns

Likelihood Carol Baskin killed her first husband
Tiger King: Honest Parent Review
Watching Joe Exotic is like watching a train carrying dumpsters crash as all the dumpsters simultaneously catch fire.
Was it entertaining? Yes.
Did it hold my attention? Sure did, I couldn't look away at times.
Did Carole Baskin kill her first husband? Yes, based on circumstantial, limited, and likely very biased evidence provided in a made for Netflix documentary. But no doubt. She killed him.
Did I let my kids watch Tiger King? Absolutely not. I have some standards for my 5 year old, not many, but some.
Would I watch it if it wasn't for the stay at home orders during April and May of 2020? Would anyone have? I firmly believe the Netflix original series' success was due entirely to a very bored populace with nothing better to do. But given the general lack of new content coming, Tiger King is well worth a watch, especially if you are bored with your other choices.
Once you see it, I don't know if it is actually worth re-watching. Maybe some people do or will eventually re-watch it. It can certainly make you feel better about your own life choices. I mean, unless you buy and sell big cats, do a considerable amount of meth, get involved with shady people who likely framed you for attempted murder, and/or kill your first husband, you will almost certainly feel better about yourself after watching Tiger King.
Definitely watch the after show with Joel McHale. You can tell he is seconds away from laughing at (at not with) nearly all the people he interviews. It also answers some serious questions like why Joe's one husband was never wearing a shirt or if Jeff Lowe really hired what seems to be an escort to be his kid's nanny?
Get comfortable and enjoy watching people's lives that are likely so much worse than yours its not even funny. OK. Maybe it's a little funny.
Pros
Entertaining
Keeps you engaged
Added fun phrases to every day life like "That bitch Carole Baskin."
Learn all kinds of things about how to feed someone to a tiger.
Cons
Not for kids
There is no justice for Carole Baskin's first husband
A show you can really only watch once