Onward (2020) – Parent Review | March 6, 2020 | PG | 1 hour 42 minutes | Animation, Adventure, Comedy
Who doesn't want to watch a G rated buddy road trip movie that's too old for young kids and too young for adults? Keep reading for an honest, trying-too-hard-to-be-funny review of Pixar's Onward.
Onward Honest Synopsis
Onward is the movie you have literally seen dozens of times before. Disney Pixar replaces horny guys, drug and alcohol references, and other adult or stoner humor with heavy, emotional baggage.
Elf brothers Ian, who is pretty much Tom Holland's Spider-Man just with weaker magical powers, and Barley, pretty much Chris Pratt's Star Lord minus his gadgets, discover a spell to bring back their long dead father.
Read Spider-Man: Far From Home review here or Spider-Man: Homecoming review here.
No, that's not a spoiler. You literally learn all of this just by watching the trailers.
But the spell goes wrong and only the bottom half of their dad comes back. Still not a spoiler, really, it's all in the previews.
And now, they need to go on an epic quest/adventure/roadtrip/whatever to find an ancient relic that will bring the rest of their dad back.
But they only have one shot (24 hours to be precise).
One opportunity (for reasons unknown, the spell only works once).
This is everything Ian has ever wanted (kid literally makes the lamest list of shit to do with his dad).
Will they make it (the relic is pretty rare and far away)?
Or just let it slip (will their brotherly bond be tested to the point where the quest almost fails? You bet!)?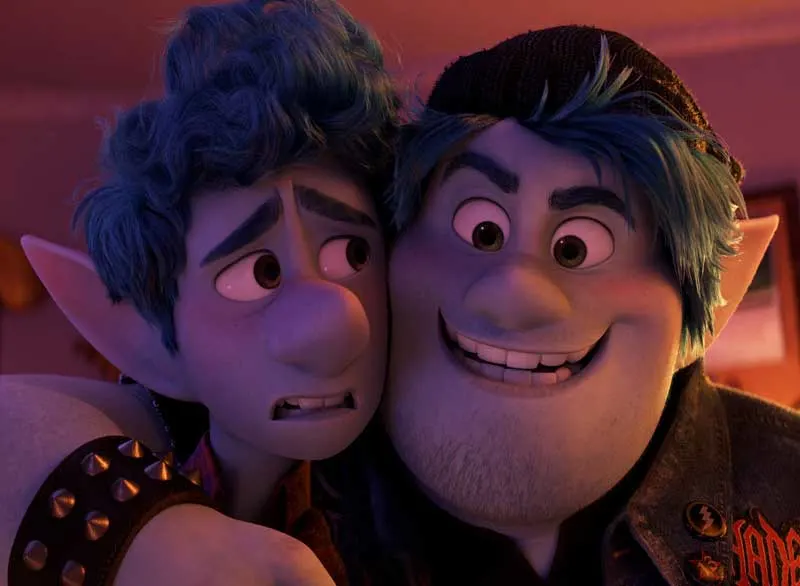 Really the only thing shocking about Onward is why Pixar decided to make this movie in the first place? Seriously. The movie has more emotional baggage to deal with than a person left at the alter. Twice.
Onward (2020) Honest Parent Review
Movie title: Onward
Movie description: When two brothers find a way to bring back their long deceased father, something goes wrong. They now have 24 hours to find a rare relic that can help them spend only a few hours with their dad before they have to say goodbye forever.
Date published: March 6, 2020
Country: United States of America
Duration: 1 hour 42 minutes
Director(s): Dan Scanlon
Actor(s): Tom Holland - Ian Lightfoot (voice), Chris Pratt - Barley Lightfoot (voice), Julia Louis-Dreyfus - Laurel Lightfoot (voice), Octavia Spencer - The Manticore (voice), Mel Rodriguez - Colt Bronco (voice), Kyle Bornheimer - Wilden Lightfoot (Dad) (voice), Lena Waithe - Officer Spector (voice), Ali Wong - Officer Gore (voice), Grey Griffin - Dewdrop (Pixie Dusters Leader) (voice), Tracey Ullman - Grecklin (Pawn Shop Owner) (voice), Wilmer Valderrama - Gaxton (College Friend) (voice), George Psarras - Officer Avel (voice), John Ratzenberger - Construction Worker Fenwick (voice)
Genre: Fantasy, Buddy Comedy, Animated
Plot

Characters

Watchability
Honest Parent Review
True to form, Pixar's Onward is an emotionally heavy trip that is really too deep for kids and too predictable for adults. Trust me. You have seen Onward even if you have not yet watched the latest Disney Plus offering.
Onward utilizes every buddy road trip comedy trope you can imagine. And since that's not enough for the sadomasochists over at Pixar, they had to add the emotionally draining edge of "what would you do if you had just one last day with a loved one? And every minute wasted is one less you get to spend with them."
Way to lay it on thick Pixar.
You can expect Disney movies to have tragedy in them that often defines the plot. But this felt different. If you think too hard about the movie, imagine the heartache knowing that each delay in their trip, instead of being funny and lighthearted, means one less minute or hour with their beloved father? A father that Barley only knew as a toddler and Ian never actually met.
That's some messed up shit right there.
It's best not to think too much about the plot. It just might depress you.
If you take it as a (mostly) fun ride, it's not a bad movie. I have definitely seen worse. Much, much worse.
Pros
Tom Holland and Chris Pratt have decent chemistry
Movie is mostly fast-paced
Genuinely humorous parts at times (though most are in the previews so you probably have seen a lot of them)
Cons
Uses every trope you can imagine for a road trip movie
Overall depressing premise that tries to be uplifting