Clifford the Big Red Dog | TV-Y | 30 minutes | Animation, Comedy, Life Lessons | TV Series (2000–2003)
You remember Clifford the Big Red Dog? Or the book with the incredibly long name that is going to be a pain in the ass to write out every time throughout this post? Yeah, that Clifford. It was probably one of the most popular books at every Scholastic Book sale of the 80s and 90s – and hell, you can still get copies of it at Scholastic here. And no, I don't make any money if you click that link, unless you want to PayPal me some of course.
But I digress. Well, sometime in the late 90's, someone at Scholastic thought it would be a great idea to continue Clifford's adventures on the small screen, in an appropriately named series Clifford the Big Red Dog. And I can't thank them enough for my next topic of review.
What is Clifford the Big Red Dog TV series about?

It's about a dog. His name is Clifford. According to the mind-numbing theme song, he got so big because Emily Elizabeth loved him soooo much – which is weird because I just always assumed he was some sort of freak of nature. Possibly the result of some scientific experimentation, but that may be too dark to explore with young viewers I suppose.
Like other television series aimed at young children, Mickey Mouse Clubhouse (read my review here) comes to mind, Clifford's series teaches life lessons to young tots such as sharing, how to not shamefully use your size to your utmost advantage, and being kind. Don't expect much in the way of plot, character development, or really much of anything that will draw you as a parent into the story.
The stories are wholesome. Your kids will see examples of what not to do and what the better solution to a problem is. Oddly, not one solution involves social isolation, alcohol, or silently crying in a corner.
Clifford the Big Red Dog: Honest Parent Review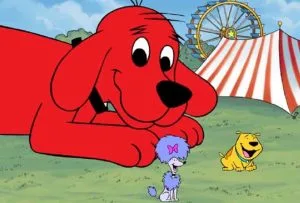 Name: Clifford the Big Red Dog
Description: Clifford the Big Red Dog and his master, Emily Elizabeth, share wholesome family adventures on their home island. Somehow, his gigantic size has not attracted the attention of intrigued scientists everywhere.
Author: Nathan
Plot

Characters

Watchability
Honest Parent Review
We all know Clifford the Big Red Dog. I mean, you do, if you grew up in suburban America in the last 50 or so years and attended at least one Scholastic book fair.
Some time in the late 90's, some genius decided it would be a great idea to make another wholesome, children oriented show featuring Clifford the Big Red Dog. And, as any great children's TV series does, it adds in an appropriate number of side-kick friends and even a not so nice peer and dog combination to butt heads with Clifford the big red dog and Emily Elizabeth.
As children shows go, Clifford the Big Red Dog is not terrible. Oddly enough, I can mostly tune the shit out. Compared to the mind numbing antics of Mickey Mouse Clubhouse (read review here) or Mickey and the Roadster Racers (read review here), Clifford the Big Red Dog is television at its finest.
Don't get me wrong, you need to bring something to do if you intend to watch Clifford the Big Red Dog and his band of misfit dog friends. The stories will not engross you as they tackle the tough hitting issues like:
sharing
caring
anal sex
new toys are fun but playing with your new sex toys with a "friend" is even more fun
being kind
Like I said, hard hitting issues. I don't even think the conservative, Bible thumping crowd can argue with Clifford the Big Red Dog, though a demon sized dog may be an issue in and of itself. I don't know. But for the narrow minded, you can rest assured that the show – the best I can tell – doesn't really tackle any kind of gay rights issues or minority issues. But if it does, it would be kind of funny to hear the reaction when their God fearing child is introduced to – <gasp> – diversity and equality.
Clifford the Big Red Dog (longest fucking name of a show, I swear… letters-wise its even longer than How I Met Your Mother) seems to entertain the little ones. It also features the voice talents of the late John Ritter, though I had to look that up to even recognize him.
But more importantly, if you are trying to work from home, like my wife and I do, Clifford the Big Red Dog is easy to ignore because it has very limited songs and no super annoying characters or plots to distract you while you work. And Clifford the Big Red Dog makes a great babysitter – you just need to have a Prime membership to watch it any time you want.
But if you don't intend to work, seriously, grab some alcohol or something else to amuse yourself with. You will need it.
Pros
Limited songs
Decent morals and lessons
Plots are predictable and easy to understand for kids
Cons
Don't know if I could sit through watching Clifford the Big Red Dog if not trying to review it (poorly)