Mulan II (Honest Parent Review) | G | 1 hour 19 minutes | Animated, Action, Comedy, Romance (?) | December 17, 2004 (straight to video)
After exploring his bisexual feelings for Ping, Shang accepts his sexuality and proposes to Mulan, the new heroine* of China, and they start to plan their wedding. But all is not well in China. In the midst of their planning, the Emperor sends word they are needed for an urgent mission to secure peace for the kingdom.
*Note: they still refer to Mulan as the hero of China.
What could go wrong?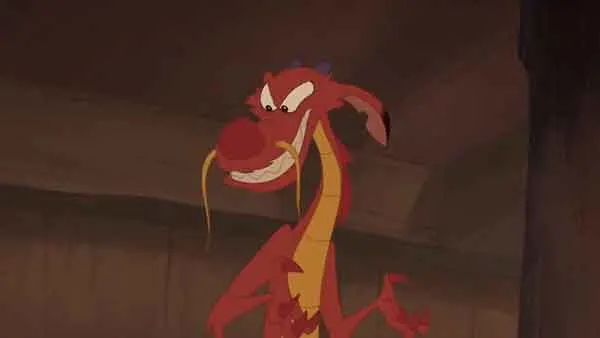 Oh. That's right. Mushu's a real ass clown throughout the movie and keeps attempting to break the couple up.
Seriously. There is no villain. Just an antagonist that you have to try hard not to really hate. Of course, that's assuming the movie engrosses you enough to care.
Mulan II: Honest Parent Review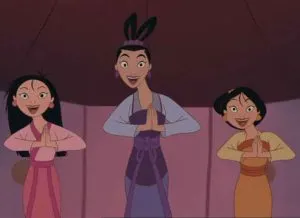 Movie title: Mulan II
Movie description: Shang proposes to Mulan, and they start to plan their wedding. But in the midst of their planning, the Emperor sends word they are needed for an urgent mission to secure peace for the kingdom.
Date published: December 17, 2004
Country: United States
Duration: 1 hour 19 minutes
Author: Nathan
Director(s): Darrell Rooney , Lynne Southerland
Actor(s): Ming-Na Wen - Mulan (voice) , BD Wong - Shang (voice), Mark Moseley - Mushu (voice), Harvey Fierstein - Yao (voice), Lucy Liu - Mei (voice), Sandra Oh - Ting Ting (voice), Gedde Watanabe - Ling (voice), Lauren Tom - Su (voice), Jerry Tondo - Chien-Po (voice), Pat Morita - The Emperor (voice), George Takei - First Ancestor (voice), June Foray - Grandmother Fa (voice), Freda Foh Shen - Fa Li (voice), Soon-Tek Oh - Fa Zhou (voice), Frank Welker - Cri-Kee (voice)
Genre: Animation, Disney Princess, Adventure, Action, Comedy
Plot

Characters

Watchability
Dad's Take
I don't think there are actual words to describe how terrible Mulan II is. Its an abysmal affront to my eyes and ears. And the experience leaves my head aching.
So the good… good… let's see. The first Mulan was pretty good. (You can read my review here.) I mean, China didn't really like it much since it took a major shit on their traditions and cultural values. If there is anything Disney does exceptionally well, it's bastardize any and all copyright free legends, myths, and folklore.
But I digress.
Mulan II makes me cringe every time I see it. Or more precisely, every time my 5 year old decides to put it on. She used to ask for "Mulan" and mean Mulan. Now when she asks for "Mulan," she wants the "wedding Mulan." In other words, one of the crappiest sequels (see my Worst Sequels List here) known to movies.
When Mulan II starts, we find Mushu is 100% a dick. His behavior is so bad, there is literally no reason to sympathize with him once he learns that Mulan's marriage to Shang will mean he no longer has his "pedestal." In other words, he'll go back on gong duty.
And once he is back on gong duty, he can't be a dick any more. Predictably, he tries nearly everything he can think of to tear Mulan and Shang apart and stop their wedding. Needless to say, his bullshit doesn't work.
But the fact that Mushu has no actual character development sucks. In the end, rather than treating the Ancestors kindly, you know, learning an actual lesson, he goes back to treating them like servants. Not cool Mushu. What kind of lesson are you teaching the kids here?
Mushu aside, the rest of the plot is severely lacking. Mulan and Shang need to transport the Emperor's three daughters to marry a prince to ensure the other kingdom remains in an alliance with them. Riveting plot for youngsters for sure.
The mission greatly upsets Mulan, who says memorable lines like, "An arranged marriage?" To which Shang replies something to the effect of, "Not everyone can be as happy as us."
Did a 10 year old write this shit? Or did they write it on a dare? Were they drunk and/or hung over?
Yes Mulan, get with your time. Arranged marriages weren't exactly unheard of – especially for royalty and such. Why are you so shocked? It really just takes me out of the piss poor story you are trying to sell me. Do better.
The three princesses are proof that you can voice a character with an ethnically appropriate voice actress and still come across as racial stereotypes. At least the one warrior, Yao (the one with one eye from the first Mulan) has no shame in using Harvey Fierstein's distinct voice instead of pretending to be Chinese.
It's also oddly fitting that the other two white guys voice the offensive Mushu and the lucky cricket. Both are an affront to traditional Chinese values. You could probably unpack a whole lot figuring that shit out.
Of course no Disney story featuring non-white characters is complete unless it subtly to overtly mocks, or at least stereotypes, the culture it is representing. Mulan II is no exception. There are several cringe-worthy moments that make you wonder how anyone really thinks Disney is so "woke."
Sadly there are not many redeeming qualities about Mulan II. The songs are meh. The character development is weak (Mushu is the same prick at the end and both Shang and Mulan have predictable development). The story is boring and predictable. The dialog is stale and sounds like a kid wrote it.
But Mulan II is exactly what my 5 year old wants to watch. If you can, avoid ever showing this nonsense to your children. You won't be missing anything.
Pros
It is only a little over an hour long
Cons
Bad character development and dialog
Meh songs
Mushu is an asshat