The Secret Life of Pets 2: Honest Parent Review | PG | 1 hour 26 minutes | Adventure, Animation, Comedy | June 7, 2019
Replacement Max, over-shadowed Duke, Snowball, and the gang are back. And this time, its even more nonsensical.
The Secret Life of Pets 2: Synopsis
This lackluster sequel to the relatively successful Secret Life of Pets has three sub-stories going on. Of course, all three meet up in the end. They include:
1. Max learns to face his fears and let go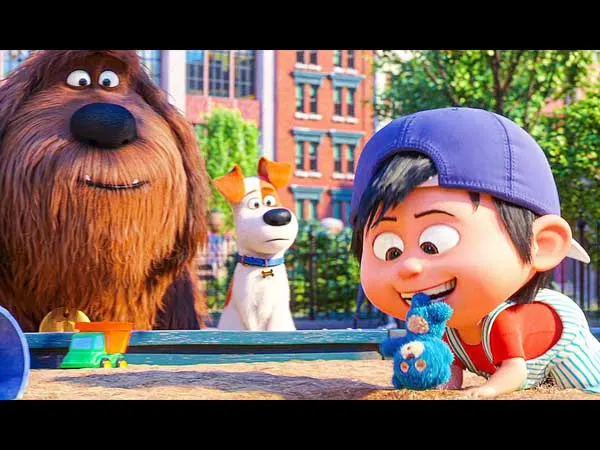 So the beginning monologue sets up Max's entire plot: Katie gets married, gets laid, and pops out a baby. Now, you think his plot may revolve around the antics of a dog and baby becoming friends.
If you did, you're wrong. Instead his plot focuses on his facing his anxiety disorder related to not letting anything bad happen to the baby. Its oddly not as cringe worthy as it could be, but it does feel like it skips some interesting story ideas.
Max gets the highlight of the tale as he learns from a sage old farm dog (Rooster, voiced by a surly sounding Harrison Ford) how not to be a lil bitch. Duke, the main antagonist of the first movie, is reduced to nothing more than a background comic relief character. Meanwhile Max learns to be non-neurotic.
2. Gidget's many adventures in babysitting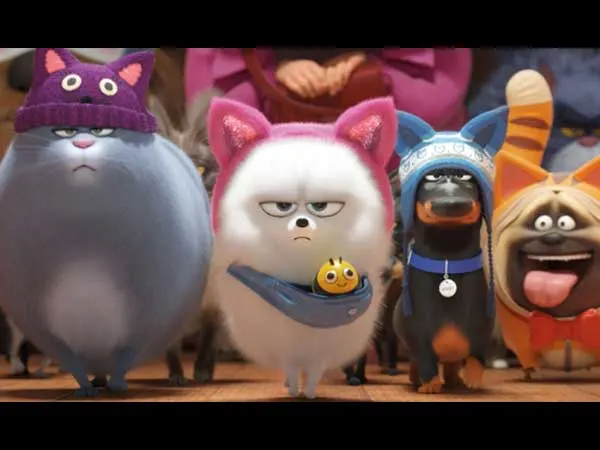 You remember Gidget from the first movie? The white, puffy shit-kicker dog that I'm sort of surprised isn't always kept as an accessory in a bag? Well, she once again gets a main story line when Max tasks her with protecting his favorite toy.
Of course she loses the freaking thing within minutes of watching it. This leads her down a path where she impersonates a cat, tricks a crazy old cat lady into running someone over, and save Max and company because, even after his self-enlightenment, he's still pretty much useless.
3. Snowball the superhero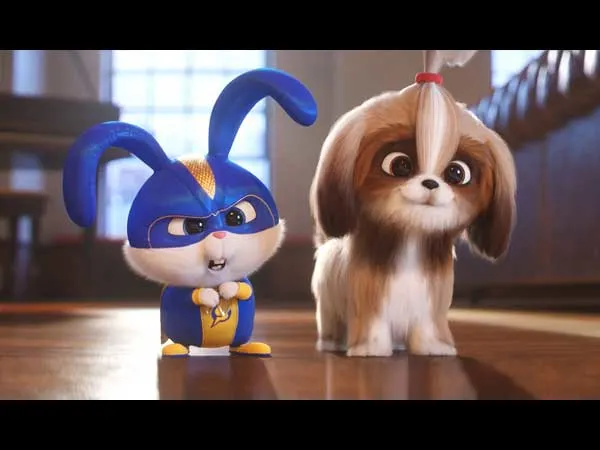 Snowball, the reformed maniacal white bunny (voiced by Kevin Hart), has fully embraced his new owner. And when she plays super hero, he dresses the part. With delusions of grandeur and a dog seeking his help (did he advertise super hero services somewhere?), Snowball's plot has him fighting to save the life of a circus animal. The owner is a cruel Russian dude dressed all in black because, you know, evil.
Eventually they find a home for the animal with the same crazy cat lady that Gidget takes advantage of. The cruel irony is that the happy ending for the tiger maybe the unfortunate ending of the old crazy cat lady.
Why was Louis C.K. replaced?
To put it in one sentence, Louis C.K. who originally voiced Max is a lousy piece of shit who admitted to sexual misconduct against multiple women (you can read about the account on RollingStone's site here). Universal and Illumination Animation dropped his ass as did other production companies and networks.
In his place, Universal and Illumination Animation cast Patton Oswalt who has many film and television credits. You may or may not recognize him from some of them. But the most important fact of all is that he didn't admit to sexual misconduct against any women.
Where can I watch The Secret Life of Pets 2?
The Secret Life of Pets 2 is currently streaming on Netflix.
You can also rent or purchase a digital copy from Google Play or Amazon Prime Video (link here for your convenience). If you prefer a hard copy, you can pick it up at Amazon (link provided to make your life easier).
The Secret Life of Pets 2: Honest Parent Review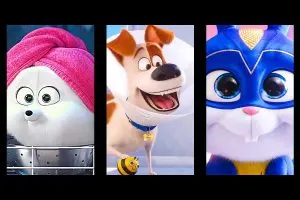 Movie title: The Secret Life of Pets 2
Movie description: Replacement Max, over-shadowed Duke, Snowball, and the gang are back. And this time, its even more nonsensical.
Date published: June 7, 2019
Country: United States of America
Duration: 1 hour 26 minutes
Author: Nathan
Director(s): Chris Renaud, Jonathan del Val
Actor(s): Patton Oswalt - Max (voice), Kevin Hart - Snowball (voice), Harrison Ford - Rooster (voice), Eric Stonestreet - Duke (voice), Jenny Slate - Gidget (voice), Tiffany Haddish - Daisy (voice), Lake Bell - Chloe (voice), Dana Carvey - Pops (voice), Bobby Moynihan - Mel (voice), Hannibal Buress - Buddy (voice), Chris Renaud - Norman / Additional Voices (voice), Ellie Kemper - Katie (voice), Pete Holmes - Chuck (voice), Henry Lynch - Liam (voice), Nick Kroll - Sergei (voice)
Genre: Adventure, Comedy, Animation
Plot

Characters

Watchability
Honest Parent Review
As animated children movies sequels go, The Secret Life of Pets 2 (or just freaking Pets 2) is not half bad. Unlike Disney feature length animated movies, you don't have to endure hearing your young kids screech the lyrics to their favorite songs. Pets 2 is pleasantly original song free.
But just because Pets 2 is a decent movie, it doesn't mean you can just keep re-watching the damn thing without getting bored. Once or twice? Sure. Several times over the course of several years? Yeah, I mean maybe. I don't know why a grown adult would want to keep revisiting this shit, but you do you.
Watching Pets 2 several times over the course of a few days because your child only wants to watch Pets 2 at the moment? To hell with that. Do yourself a favor and make sure you encourage some variety in your child's watching habits, or you'll end up ruining another, otherwise halfway decent movie.
Pets 2 does have some decently funny moments. Kevin Hart brings some decent humor. Harrison Ford adds his signature grumpy, tough guy act. And Eric Stonestreet, reprising his role as Duke because, you know, a bunch of women didn't accuse him of sexual misconduct that he later admitted to, brought a few smiles to my face.
Again, I stress this. Don't ruin a half way decent movie. Don't let your children watch Pets 2 and only Pets 2. By the 3rd or 4th viewing, you will probably start to hate it or your life or both.
Like the first movie, The Secret Life of Pets, Pets 2 follows several plot lines that eventually converge. But it upped the ante. It now includes 3 subplots that really have virtually nothing really to do with each other, but the writers managed to bring them all together in the end. Which is sort of surprising and a bit refreshing for a sequel. There are many, many sequels that can't pull off a decent plot or make plot lines make much sense in the end.
But that is the difference between a well-thought out movie and blatant money grab like The Grinch (review here) or Cinderella II: Dreams Come True (review here).
Pros
Pretty good cast including Kevin Hart, Harrison Ford, Eric Stonestreet, and others
Some genuinely funny moments aka the entire thing wasn't written exclusively for kids like many, much more irritating movies and shows, are
Cons
Watching it too many times in a row gets pretty old