The Halloween 1978 pumpkin made its debut during the opening credits of the classic horror movie featuring Michael Myers. The pumpkin's unique look is something both fans of the movie franchise and casual Halloween enthusiasts enjoy displaying during the month of October.
Whether you are a skilled pumpkin carver or just want to buy something to save yourself the hassle and utter shame of your humiliating attempts to carve one yourself, here are 10 products, tutorials, and such that will allow you to display the Halloween 1978 pumpkin with pride. The best part is you can keep these products alive all year round if you like.
Disclaimer: I don't, in anyway, endorse the sellers of these products. You take all risk associated with purchase and need to take up your grievances with the product's seller. I also, sadly, will make no money off of any of the purchases if you choose to make a purchase of a Halloween 1978 pumpkin product listed here. You are responsible for your own poor life choices and purchasing decisions.
How is the Halloween 1978 pumpkin unique?
During the opening credits, the camera slowly zooms in on a carved jack-o'-lantern. Though it looks like something just about any kid or talentless adult could create, as it gets closer, you will see the classic triangle nose has a slit coming down the side.
Here's a shocker about a John Carpenter film: the slash was intentional! I know right?!
Anyway, the slash combined with the triangle of the nose and the left eye of the pumpkin resemble Michael Myer's silhouette wielding a knife. This surely comes as a shocking revelation 45 years later, but that's what I do here at Movie Time Dad. I provide hard hitting current movie knowledge to your very own device.
8 Halloween 1978 Pumpkin Products
Think you can replicate that pumpkin shape yourself? Yeah, me neither. These products should help you feel less incompetent.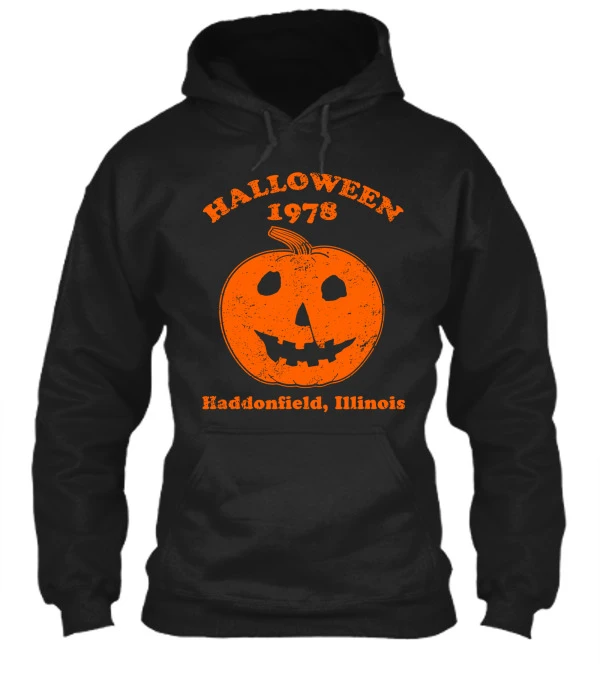 Halloween 1978 holiday spooky gift pumpkin Haddonfield Hoodie
With an on website 4.8 star rating, this Halloween 1978 pumpkin hoodie must be good.
It features the original design or close proximity to it. The sweatshirt ranges in size from small to 5X.
The sweatshirt itself features a poly/cotton blend, a front pouch, and stitching that supposedly makes it well-reinforced.
If you like their design, you can also order t-shirts, mugs, mousepads, totes, phone covers, face masks, and more.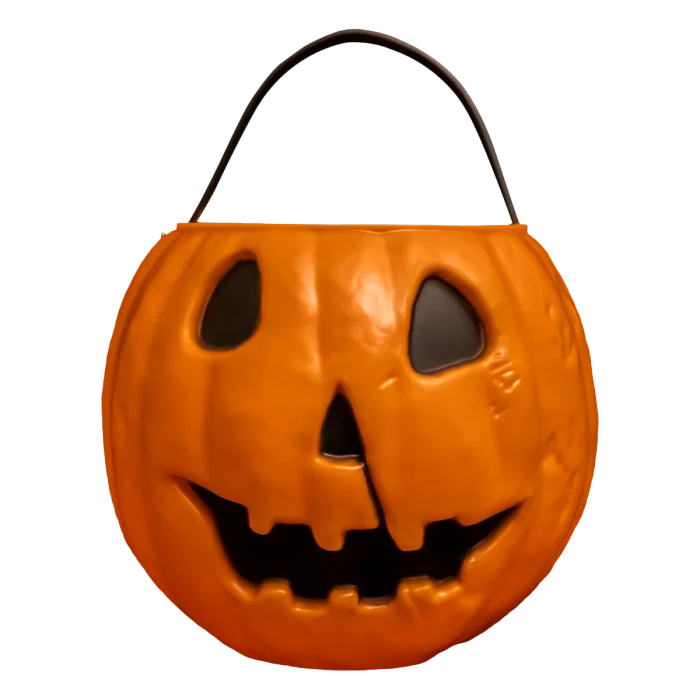 Halloween – Pumpkin Pail
This exact replica of the Halloween 1978 pumpkin is a fun trick or treating pail for you or the little ones in your life. I won't judge your candy collecting habits. Lord knows I only take the kids out trick or treating to steal the good stuff that is clearly laced with all sorts of illicit drugs.
If you care, the pail is 8″ high and 8″ wide with a 6″ wide opening to stuff with treats. It is about 1 pound in total weight.
The seller offers payment plans through PayPal and purchase options through GooglePay. Yeah, it's not that expensive, but if you end up adding more crap to your cart, you may appreciate the interest free payments.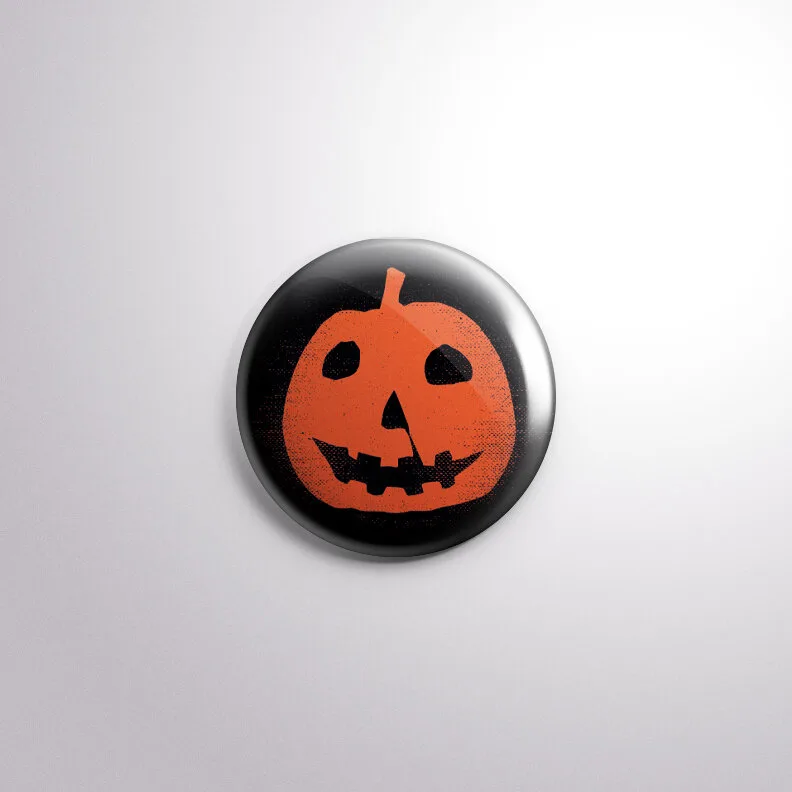 Halloween 1978 Pumpkin Button Set
Like understated flair or did you boss recently reprimand you for not having enough flair? Then this Halloween inspired button set is a must.
The three set button collection features:
pumpkin from the opening title sequence
class of 1978 Haddonfield High School
Michael Myer's mask
No one is going to tell you to get more flair with these bad boys.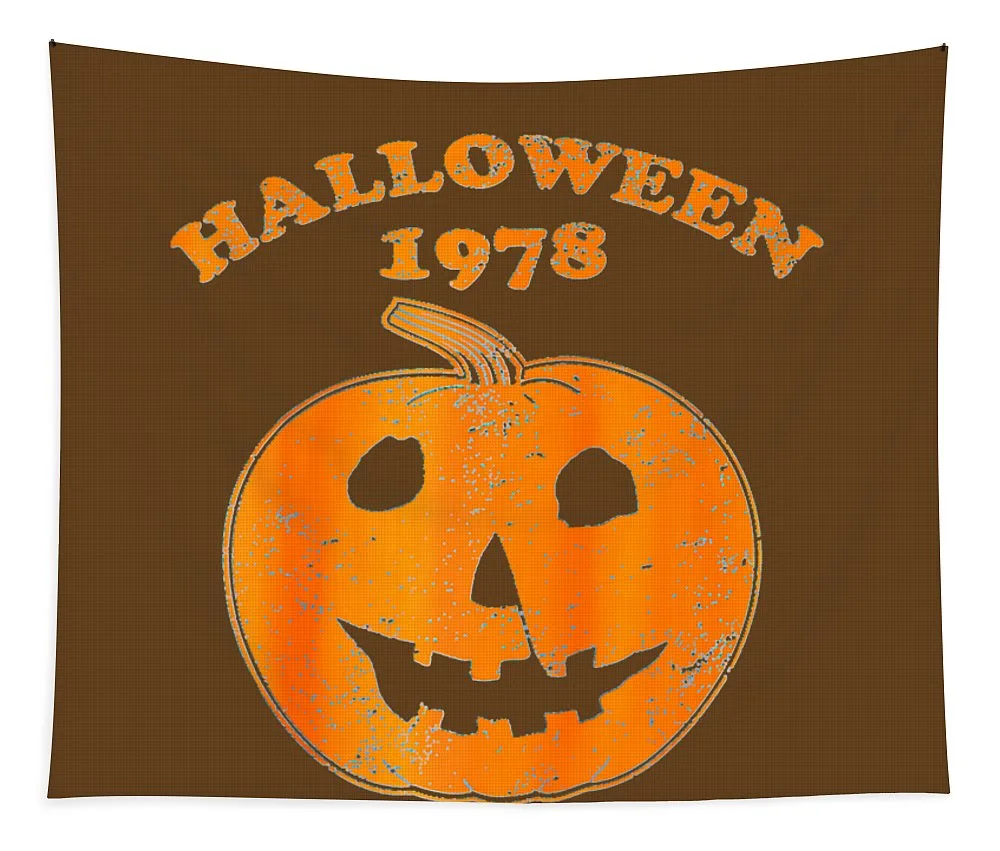 Halloween 1978 holiday spooky gift myers pumpkin haddonfield Tapestry
Are you still a virgin? Do you have a "man cave" and have a wide open wall just begging for a tapestry?
This lightweight Halloween 1978 pumpkin tapestry may just be the right fit for you because nothing says 'never been laid' like a tapestry proudly displayed!
They hemmed the edges to let you hang it with tacks or nails. Just make sure your mommy and daddy are OK with you using nails or tacks to hang it on their walls. They may want to help you with the hammer.
The seller offers installment plans through PayPal so you don't have to worry about forking over all your allowance money at once for this one.
Halloween 1978 Michael Myers Pumpkin Horror Movie Prop Collectible Display
This fun little statue is only for true fans of Halloween 1978 because it is one of the most expensive 6″ tall pumpkins I have ever seen.
Anyway, the display features a battery operated flickering light to recreate an authentic looking lit pumpkin.
The seller (found on eBay) offers several payment options, including installment plans. But they do not accept returns.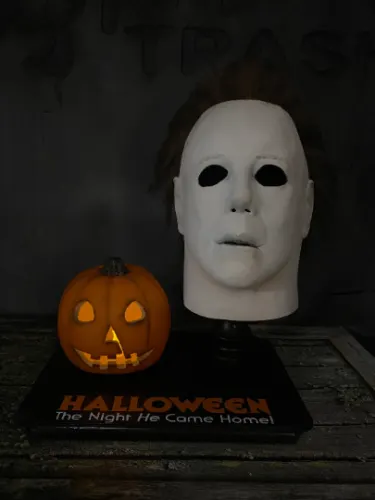 Halloween 1978 Michael Myers Mask Stand with Pumpkin Display Prop Replica
Do you want to really prove you're a Halloween fan? Then you need to display this combination of the Halloween 1978 pumpkin and Michael Myers' mask.
The same seller as the pumpkin statue above, they do not accept returns on their items. But they do accept American Express.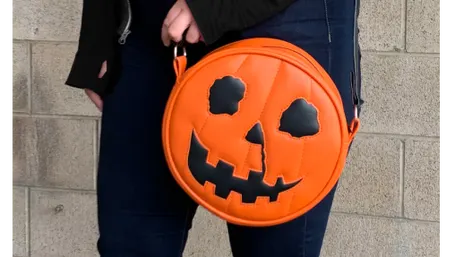 Halloween 1978 Pumpkin Purse
Nothing says accessories like a Halloween 1978 pumpkin purse! This is the perfect purse to compliment all your black outfits and Halloween inspired outfits.
The purse features an adjustable strap and vegan leather. It also has a large center pocket and side pockets.
Trick or Treat Studios offers a variety of different Halloween and other horror movie inspired paraphernalia to suit your many needs, so you may find .
You can use the Shop app to purchase the purse as well as every major credit card.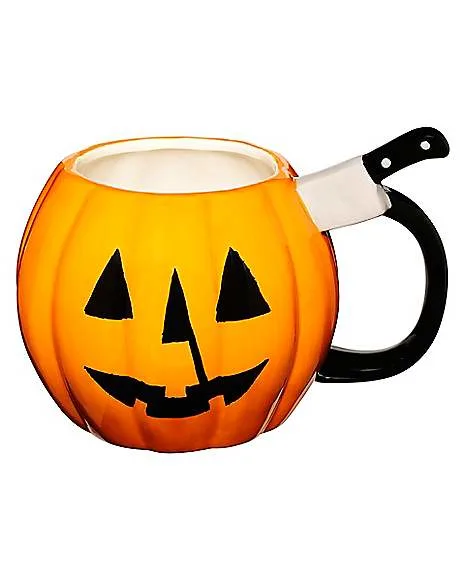 Michael Myers Pumpkin Molded Coffee Mug 20 oz. – Halloween
Not one to miss an opportunity to make a quick buck, Spirit offers this almost authentic looking Halloween 1978 pumpkin mug, complete with a butcher knife sticking out of it and a portrait of what is probably Myers on the other side.
You're so close Spirit, so close.
I'm really more surprised they didn't call it something like "Miguel Moyers Mature Winter Squash Caffeinated Beverage Seasonal Insulated Cup" to avoid those pesky copywrite laws.
You can purchase the almost authentic looking pumpkin mug here.
You could also check out your local Spirit store located in the decaying corpse of a store near you!
DIY Halloween 1978 Pumpkin Designs
Prefer to make your own stuff. Well, good luck, but here you go you crazy crafter you.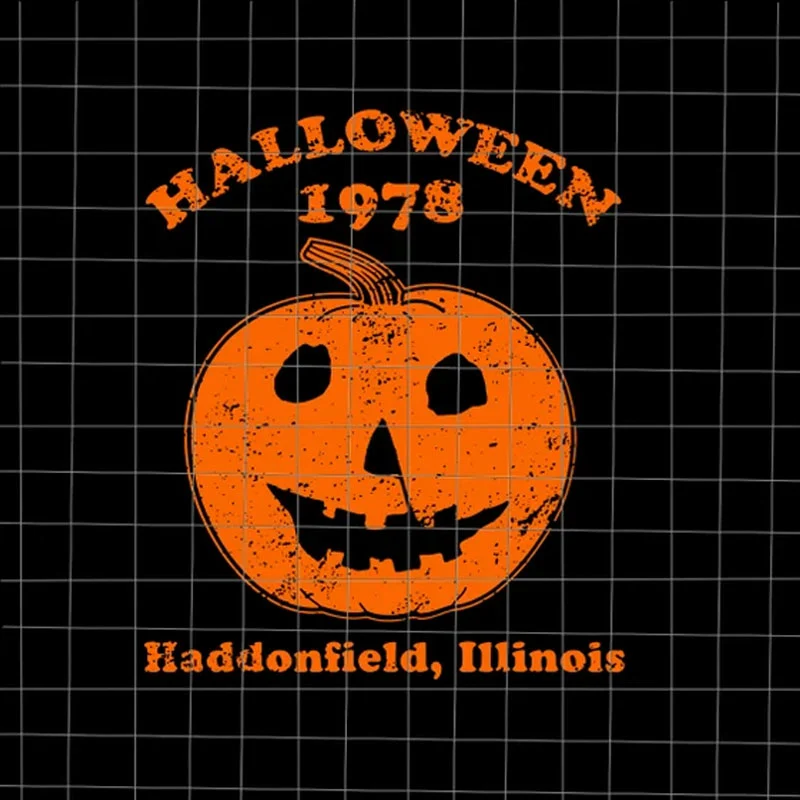 Halloween 1978 Pumpkin svg
Love using your Cricut or Siser but lack actual drawing talent or too lazy to draw your own pumpkin? This Halloween 1978 pumpkin SVG file will fill your creativity itchy without having to be super creative yourself.
Once you pay for the download, you can then affix the pumpkin to whatever crap your heart imagines.
Pumpkin – Halloween 1978 style
Have 3D printer? You can download this free set of files to print your very own Halloween 1978 pumpkin for your own personal use.
You just can't sell or otherwise market the pumpkins you make. But if you want to make it for your personal use, more power to you.
Still have time to waste…
If you still have time while you are "working," taking a crap, or trapped under a child, you can check out these reviews of children and family related content to really get you in the Halloween spirit.