The Halloweentown pumpkin gets honored every year in the northwest pacific town, St. Helens, Oregon during the Spirit of Halloweentown festivities. St. Helens is the town where film crews shot Halloweentown back in the 90s, brining to life a cult classic.
What is the Halloweentown pumpkin?
Halloweentown was a television special the Disney Channel first aired on October 17, 1998. Though generally lackluster, the film, like Hocus Pocus, has developed a cult following over the years.
In the movie, Marnie Piper follows her eccentric grandmother back to Halloweentown only to discover she comes from a family of witches and such. In this bizarre town, different monsters and other messed up creatures that resemble Furries live in peace and tranquility away from the real monsters, humans.
In any case, without giving away details of a 25 year old movie here, the town square features a giant, Halloweentown pumpkin that ends up playing a role in the overall plot of the movie.
The Halloweentown pumpkin now sits in the town of St. Helens in Oregon because film makers used the town as a backdrop for the movie. Yes, you too can actually visit the Halloweentown pumpkin if you want to, much like Hocus Pocus fans can visit Salem, Massachusetts' and visit locations associated with the movie.
Hocus Pocus fans can visit their Mecca anytime of year, can Halloweentown fans say that? Well, I guess technically, but St. Helens only decorates during the month of October to become Halloweentown. And I'm pretty sure they keep the Halloweentown crap year round because tourism generates money.
Where is the Halloweentown pumpkin?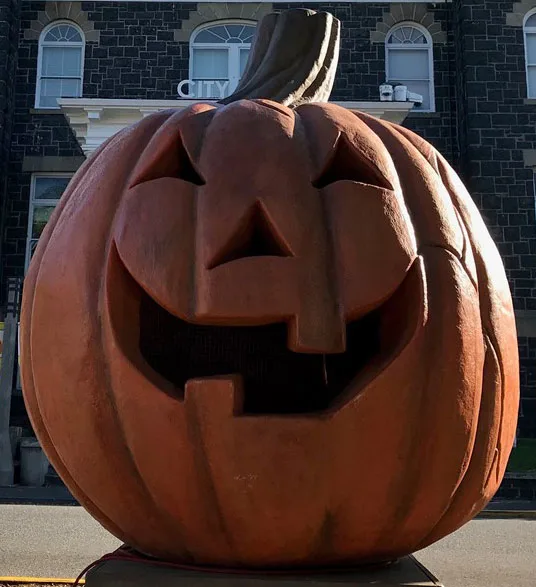 Film crews filmed the original Halloweentown movie in St. Helens, Oregon. The Halloweentown pumpkin is located in the Halloweentown Plaza at 275 Strand Street.
Yes, you too can visit the famous pumpkin and gaze upon its corny ass glory. When you visit St. Helens, you can also check out some other "fun" Halloweentown sites.
Halloweentown movie locations in St. Helens
If you care to visit "Halloweentown," you will want to go in the fall, specifically weekends from about mid-September through the end of October. But, if you happen to be near St. Helens, OR, you can visit all the sites of the Halloweentown movie whenever you want.
Here are the highlights of places you can visit in St. Helens aka Halloweentown:
Halloweentown Pumpkin – Located at Halloweentown Plaza
Old Theater – You can find the old theater at 212 South 1st Street
City Hall or Courthouse Plaza – Located at Halloweentown Plaza at 275 Strand Street
Aggie Cromwell's House – Located at 3814 South East Martins Street
Benny's Cab – You can find this car parked along Halloweentown Plaza. The cab is a bit different from the movie because the town assumes you're stupid and won't notice the differences. That said, they do have a Benny in the driver's seat. Who they killed to make the skeleton, the world may never know.
Bus stop – Located at Halloweentown Plaza
You may just find other hidden gems scattered around town as well. Then again, maybe you won't because your dense or just not into Halloweentown and only there to satisfy your significant other's fantasies so you can get laid later.
Either way, the city appreciates your business I'm sure.
When do the Spirit of Halloweentown events happen?
OK. I'm going to break this down for you.
Halloweentown events happen during the month of October when Halloween also occurs.
They also tend to start about mid-September.
Though you will find the décor all set up anytime during the seasonal period, you will find the majority of the action and what some may call "fun" happen on the weekends.
For more official news on when and where events will occur, check out the city's official site that can help you plan your nerdy trip.
When is the best time to visit the Halloweentown Pumpkin?
If you want to get your picture taken in front of the Halloweentown pumpkin, your best bet is go during off hours. The festivities and activities take place on the weekends, which means it could take a while to battle the crowds to get your picture taken amongst the throng of Furries and other tourists.
Try going in the evening or a week day if you want to avoid the crowds.
Of course, if you actually like to participate in crowded events, you will need to go on the weekends when activities actually occur. Otherwise, you are just going to look like some lame tourist taking a picture with a giant pumpkin in front of a random city's town hall.
If you go during the Spirit of Halloweentown festivities, you could also dress in a costume. I'm sure whatever you wear will look better than the Furry costumes Disney purchased from Wish to make the movie. (BONUS: You win nothing if you can point out the ack-tually inaccuracy in that comment.)
In fairness, you could dress up anytime of year, you will just look less and less freaky the closer to the festival you actually get.
Do I Need Halloweentown Tickets?
No. You only need tickets for special events and such.
You can walk around the town and take pictures of different sites for free all you want. But, if you plan to park in the official lots, they will charge a fee. You should be able to find some parking a short distance away for free if you prefer to walk and avoid a paying.
If you happen to buy tickets to an event, the parking fee is often waived or included in the total price.
You can purchase tickets to and peruse different events offered during the Spirit of Halloweentown here.
You should also plan to bring along a bit of cash for drinks, food, and souvenirs if you like.