Mickey, Minnie, Daisy, and the gang provide their usual lame antics in Mickey's Tale of Two Witches TV special. An uncomfortable and bland blend of tired story tropes, this tale is sure to leave you wanting to see just about anything – ANYTHING – else to help you forget that you just lost so much of your life on it.
It's that time of year again. The leaves are changing color as the temperature starts to drop. It's the perfect time of year.
Mostly.
It's mostly the best time of year because fall also marks when all the Halloween specials start to unearth themselves.
This year's model is called Mickey's Tale of Two Witches.
And like most shows aimed at little kids, they'll probably love it while you contemplate other forms of torture you'd prefer, such as water boarding or sleep deprivation.
What is Mickey's Tale of Two Witches about?
Mickey's Tale of Two Witches combines the characters and animation styles from Mickey Mouse Clubhouse and Mickey and the Roadster Racers. This Mickey Halloween short movie is set in Happy Haunt Hills, which is a theme-appropriate take on Hot Dog Hills from the Roadster's show.
The name, Tale of Two Witches, is itself a take on Charles Dicken's Tale of Two Cities. And yes, that is literally where the resemblance stops.
Unlike some of Mickey's other adventures, like the Disney take on A Christmas Carol, this latest Halloween TV special movie featuring Mickey Mouse isn't even a watered down version of a classic tale.
Instead, it relies on several tropes, like an up coming test, rivalry, the power of friendship, feelings of insecurity, forgiveness, and so on. Basically, it's everything you'd expect from a 45 minute or so Disney Junior special movie presentation.
Plot in a nutshell
The show opens with Mickey telling his dog, Pluto, a story about two witches in training – Minnie the Wonderful and Daisy Doozy. The titular two witches in training have to pass four tests from Witch Master Clarabelle in order to graduate that night.
The intersecting subplot follows Pete the Ghost's desire to be a spooky specter and win some lame competition in town that Witch Master Clarabellle runs or something. Like Daisy, he is comically inept and a rather tragic figure.
For good measure, the show mixes in some songs for plot development. Both Pete and Daisy sing songs about how much they suck. I'm pretty sure Minnie sang some self-righteous song too, but I have to be honest here, I sort of zoned out a bit from time to time.
The Disney Junior Halloween movie ends as you would suspect with everyone, including Pete the Ghost, living happily ever after or at least happy enough.
I'm pretty sure Spooky Loca and Donald are secretly plotting the murders of the others. They all just seem so incompetent compared to the unlikely pair that may one day bring them all down….
Fun challenge alert!
Of course by "fun," I actually mean, this might prevent you from drowning in despair as you drink your third glass of "mom juice" – you know who you are.
Here's the challenge.
See if you can tell if Daisy Doozy is:
1. Wearing a do-rag under her witch hat.
2. Wearing a black wing.
3. Has somehow grown a receding hairline of black hair.
4. Somehow got a trash bag stuck to her head (damn you polluters!).
Morals or lessons kids may learn from a Tale of Two Witches
To be clear, these are morals or lessons for your kids. I have some serious questions about your mental or emotional state if you also took something away from A Tale of Two Witches. Serious – questions.
Friendship is powerful and the most special kind of magic there is. Is My Little Pony: Friendship is Magic aware they stole their premise?
Collaborating on a group project is not nearly as terrible as you will one day find out it actually is.
Forgive those who do you dirty, even if it is a terrible person like Pete who perpetually does you dirty. It definitely doesn't sound like the grounds for an unhealthy relationship at all right there.
Helpful tips for the adults
Whether you pay close attention or spend the time your kids watch Mickey's Tale of Two Witches playing on your phone, here are some helpful takeaways as an adult:
Drinking alcohol before noon does not make you an alcoholic if your reason for drinking involves suffering through another Disney Junior Halloween special.
Keep your phone well charged or sit near a charger. Mindlessly playing on your phone can help stave off insanity.
Try playing my fun game and debating what the actual hell is on Daisy Doozy's head.
Where to watch
If you really, really want to watch A Tale of Two Witches, you can try to catch it on Disney Junior when it airs, which happens quite a bit during October.
Or, if you have to watch it right now, you can use:
Of course, if you are really desperate, you can use a service, like Amazon Prime Video, and rent it for a small fee.
When did Tale of Two Witches come out?
The show is pretty much brand new as of this writing, premiering on October 7, 2021 on Disney Junior much to my children's delight and my chagrin. In fact, this show is so new Common Sense Media (at the time I wrote this) has not even reviewed the Tale of Two Witches yet.
I mean, come on Common Sense Media! How am I supposed to know if this show has "Sexy Stuff" or "Consumerism" without your helpful, now stuck behind a paywall guide? Or how was I supposed to know that a Tale of Two Witches would involve witchcraft?
What characters are in Mickey's Tale of Two Witches?
You an expect the normal line up of Mickey's gang appearing in the Tale of Two Witches. Here are the characters and the voice actors who lent their talents.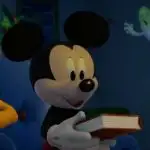 Mickey Mouse
Voiced by Bret Iwan
Mickey Mouse appears in the beginning of the show when he starts to read the Tale of Two Witches to his dog, Pluto, who desperately just wanted some candy. That's animal abuse Mickey. Prick.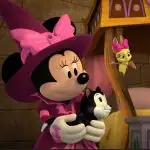 Minnie the Wonderful
Voiced by Kaitlyn Robrock
Minnie Mouse plays Minnie the Wonderful in Mickey's Tale of Two Witches story. She is a witch in training that graduates the same night as her last four witch tests that she passes with her exasperatingly cheery disposition.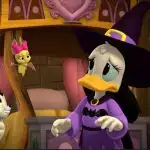 Daisy Doozy
Voiced by Tress MacNeille
Daisy Duck plays the second witch in training, Daisy Doozy. Living up to her unfortunate name, she represents the bottom of the bell curve in her witch class of two. In other words, she fails miserably and is pretty much a moron that is beyond help.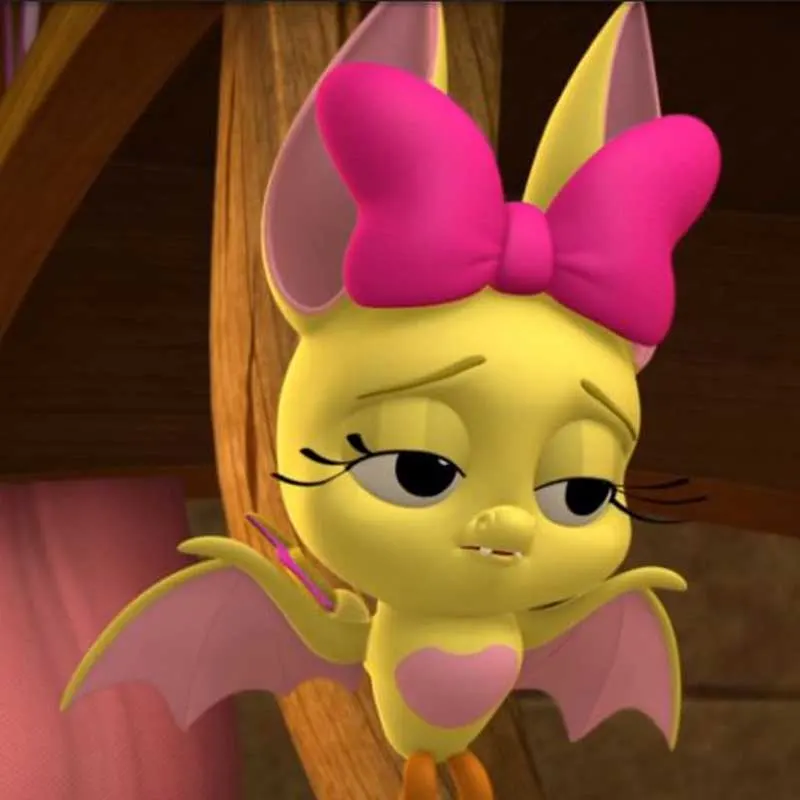 Spooky Loca
Voiced by Nika Futterman
Though I won't go so far to say she's the smart one, she certainly provides more of a voice of reason than either Daisy Doozy or Minnie the Wonderful. She brings a Disney Junior level of sass, if such a thing exists.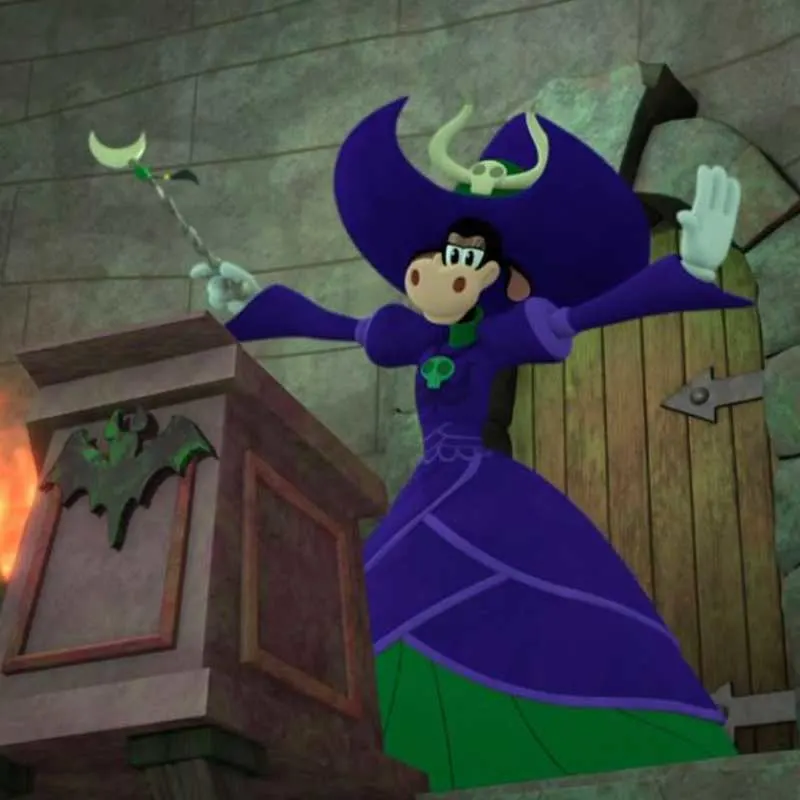 Witch Master Clarabelle
Voiced by April Winchell
The clumsy cow Clarabelle plays the oddly harsh Witch Master that casts some serious shade at Daisy Doozy throughout the show.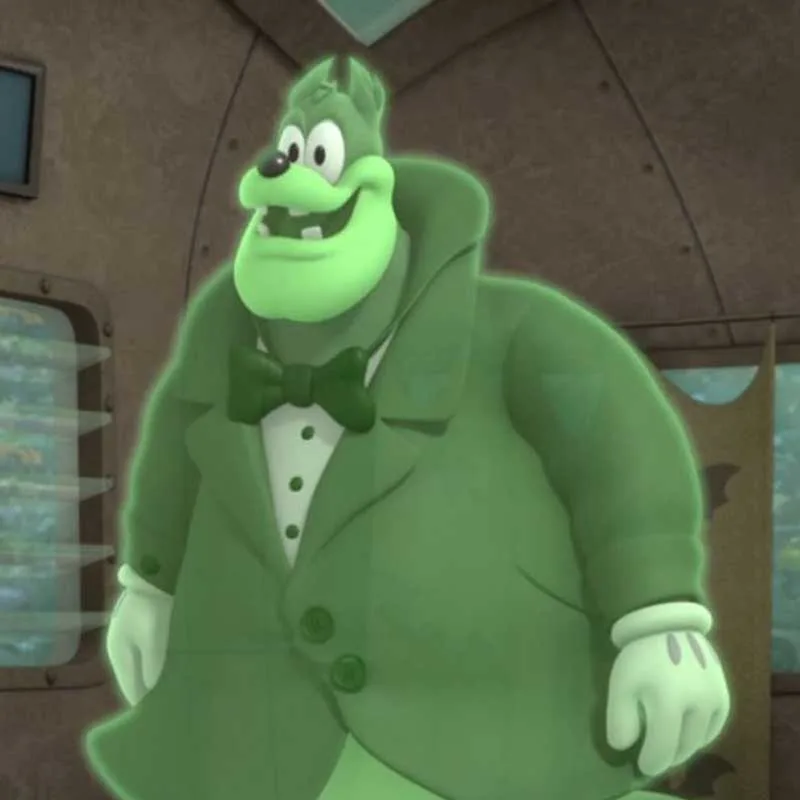 Pete the Ghost
Voiced by Jim Cummings
Pete the Ghost is the antagonist of the tale and about as incompetent as Daisy Doozy. He's currently the laughing stock of Happy Haunt Hills, but he wants to be the spookiest ghost in the town. Of course, in a town full of monsters, this makes virtually no sense. Maybe try moving to a town with people who might scared of a green ghost?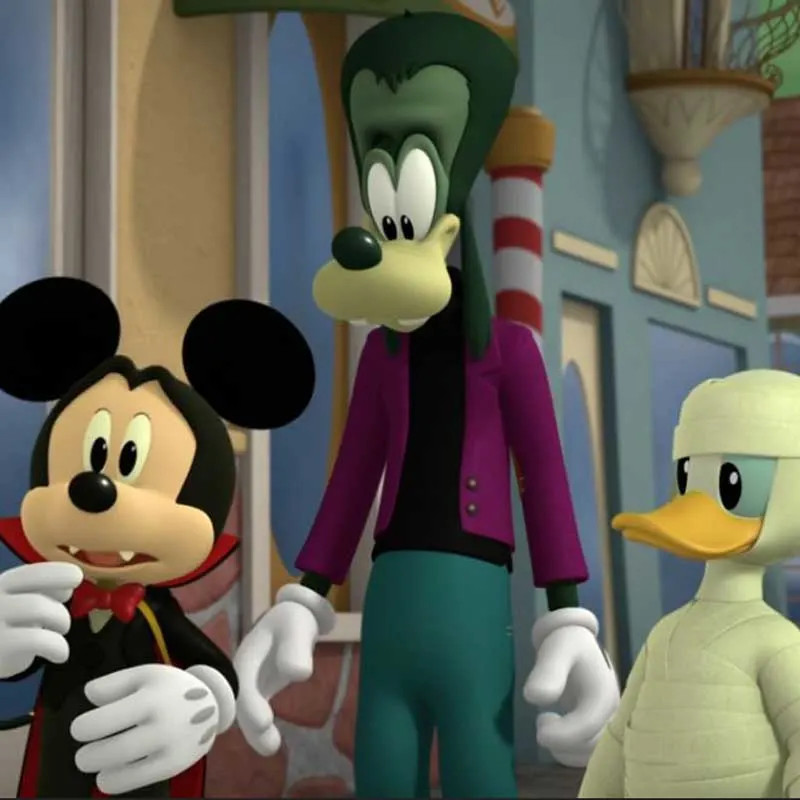 Count Mickula, Franken Goofy, & Mummy Donald
Voiced by Bret Iwan, Bill Farmer, & Daniel Ross
In an unprecedented change of events, Count Mickula, Franken Goofy, and Mummy Donald take a general backseat to Minnie the Wonderful and Daisy Doozy. I still wouldn't say this is a female power show, but at least they get most of the spotlight.
Mickey's Tale of Two Witches Review
Name: Mickey's Tale of Two Witches
Description: Mickey, Minnie, Daisy, and the gang are up to some Halloween fun in Mickey's Tale of Two Witches. Tired and trite, this exceptionally long feeling TV special will make you wish you could just leave your young children to watch it on their own.
Author: Nathan
Plot

Characters

Watchability
Comments Rating
( reviews)
Dad's Take
Disney Junior has a knack for creating mindless dribble, and Mickey's Tale of Two Witches is no exception. It's a true testament to their continued ability to delight kids (and grown adult fans living in their parents' basements) while simultaneously giving parents and sane adults reason to wish harm on others.
Maybe my standards are too high, or maybe referring to the movie as "spooky fun for all ages" is an unrealistic opinion. I'm an age Alex Reif. And I'm not delighted.
For me, this made for Disney Junior short Halloween movie falls somewhere between the spectacularly crappy Spooky Buddies and Double Double Toil and Trouble movies and the generally more tolerable Halloweentown franchise.
One thing I can say for a Tale of Two Witches is at least the dialogue is not stilted and completely lazy. Disney actually seems to put some money and effort into their Mickey franchise, probably because Disney knowns Mickey is their flagship.
The major problem I find with this latest Halloween installment from Disney Junior is that there is almost 0 effort to entertain the parents forced to watch it much less give them a reason to smile. I miss the days when animators would pepper kid shows with adult humor that kids don't get but that would give the adults reason to not shut their brain down completely. And no, it does not need to be completely dirty, just something that will appeal to adults.
On another note, what the absolute hell is up with Daisy's black mop on the back of her head? I believe it is supposed to be black hair, but I am confused if it is a wig or if she has an incredibly bad receding hair line. Either way, it looks ridiculous.
I'm also very tired of the friendship is magic story line. Aside from being a blatant copy of My Little Pony: Friendship is Magic's premise, Daisy's and Minnie's relationship didn't seem particularly magical to me. Minnie didn't seem to get that her incompetent friend was likely going to fail the last witch test on the night of their graduation. She's sickeningly sweet and seems like one of those fake friends that smile in your face and then stab you in the back as soon as they can.
Maybe I'm applying too much brain power here, but why would they not have all their grades tabulated at least a few days in advance of their graduation? And if Daisy Doozy is so terrible to earn some eye rolls from Clarabelle, how did she get so far to begin with?
The "tests" seemed pretty damn basic. Don't get me wrong, I'm no expert on magic and witch craft, but it seems like casting a simple spell and flying on a broom would be pretty essential skills that a witch would need to do with no issue. So how does Daisy Doozy keep screwing up?
How?
Yes, I have dug too deep.
Do yourself a favor. Before putting too much effort into figuring out how the world of Happy Haunted Hills works, just check out. Grab your phone, "mom juice," or whatever coping mechanism you use and settle in for a mind-numbing 45 minutes of a "good" time.
Pros
short-ish, 45 minute run time
features familiar Mickey characters
kids seem to genuinely like it
Cons
not entertaining for adults (unless you are a grown Disney fan that can't admit when something is not exactly great)
requires distractions to avoid overthinking or getting bored out of your mind
kids will likely want to watch it over and over again